International Symposium on the Physical and Failure Analysis of Integrated Circuits (IPFA)
18-20 July 2022, Marina Bay Sands, Singapore
TESCAN's distributor Novatiq Scientific will welcome you at the booth A12. The 29th edition of the IEEE IPFA will focus on understanding failures in conventional and new CMOS devices as a means to improve future design reliability.
Thailand Scientific Equipment Center Network (TSEN) conference
21-23 July 2022, Thailand
Antonín Doupal, Area Sales Manager, and our partner Absotec will present FIB SEM and the pharma-related applications.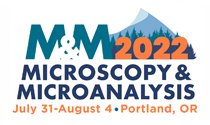 July 31- August 4, 2022, Portland, OR, USA
Don't miss out on the premier microscopy & networking event of the year! TESCAN is a gold sponsor of this important industry event.
TESCAN welcomes you at the booth #1544. Please register to attend a session in the TESCAN Learning Lab or schedule a demo, click here.