TDB is a subsidiary of the TESCAN ORSAY HOLDING group, a leading manufacturer of scanning electron microscopes. TDB has been operating in the Brazilian market since the end of last year.
The new subsidiary was symbolically opened by Jaroslav Klíma, the CEO of the TESCAN ORSAY HOLDING group and one of the five original founders, and, by Pavla Havrlíková, the Czech Consul General in Sao Paulo. At the opening, Rosetti Rafael and Rui Eduardo Moreira, the commercial and administrative, and, the technical directors of the Brazilian subsidiary respectively, also attended. Current customers –representatives of universities and institutes of research – as well as two representatives of the CzechTrade in Brazil were also among the invited guests.
Today, TDB holds a share of about 25% of the internal market of electron microscopy. Since the cooperation between TESCAN and the Brazilian subsidiary started, 60 instruments have been sold only in Brazil. "Wherever we have our brand supervised by our own people, we see that within a year or two, the sales grow. Therefore, we prefer to have our own subsidiary in all those key markets", said Jaroslav Klíma.
Currently, the scope of Tescan Instrumentos Científicos do Brasil Ltda. also includes Argentina; however, the growth prospect is to include other Latin-American countries such as Bolivia.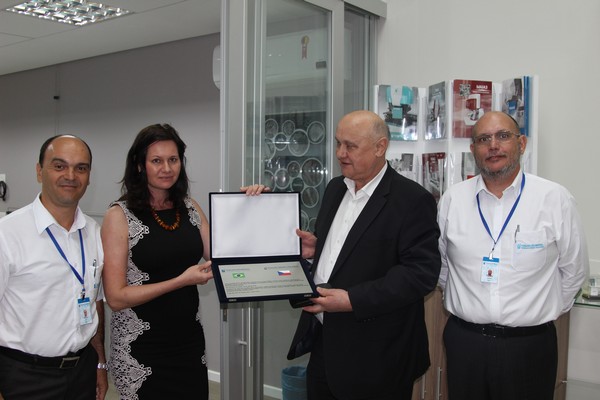 From the left: Rui Eduardo Moreira, sales and technical director of TESCAN subsidiary in Brazil (TDB), Havrlíková Pavla, General Consul of the Czech Republic in São Paulo, Jaroslav Klíma, the CEO of the TESCAN ORSAY HOLDING and sales and administrative director of TDB, Rafael Soldatelli Rossetto