The Microscopy Conference 2023 (MC 2023) took place in Darmstadt, Germany, from 26 February to 2 March, and TESCAN was there as a diamond sponsor. MC 2023 was an amazing opportunity for all microscopy enthusiasts to learn about the latest findings and trends that our field is alive with.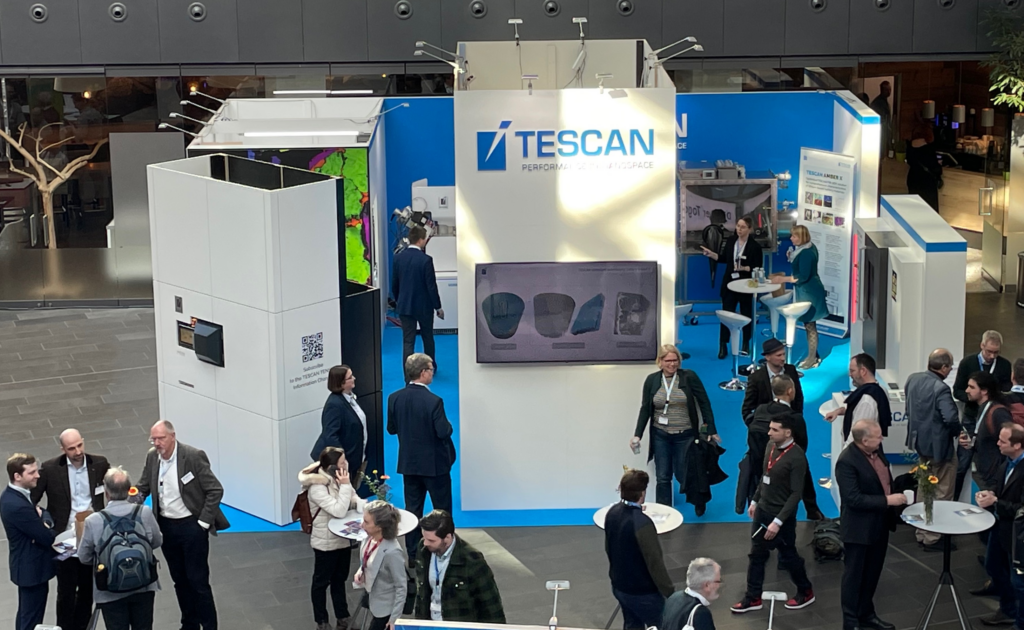 The conference offered a rich program full of engaging talks, workshops, posters and demonstrations. Keynote speakers were renowned experts from academia and industry who shared their experiences and views on the future of microscopy.
Of course, we had representatives among the experts. On Monday, February 27, the conference participants had the opportunity to choose from two TESCAN lectures – Resolution, Speed, Image Quality, and System Versatility in micro-CT by Lars Oliver-Kautschor and CryoTEM sample preparation by FIB-SEM by Ondrej Šulák.
In the Exhibitor Presentation section, Petr Klímek presented Excellence in science through purposful innovation.
On Tuesday, they were followed by Dirk van der Wal with a presentation of the revolutionary TESCAN TENSOR: The Integrated, Precession-Assisted, Analytical 4D-STEM, Jakub Javůrek with 3D Tomography of Large Volumes and Petr Klímek prepared Faster mm-scale defect/failure analysis by combining plasma FIB milling and Laser Ablation.
Tomáš Šamořil then presented The role of Electron Microscopy and Focused ion beam characterization methods in the evaluation of electrochemical materials and their interphases to a packed room on Wednesday 1st March. Martin Sláma closed the TESCAN star line-up on Thursday with his lecture Achieve the highest quality and throughput in TEM lamella preparation using TESCANs automation and unique lift out method.
Throughout the conference, visitors could find us at booths E-01 and E1-24, where we had demos ready for them. One was dedicated to battery research and how our solutions are important to overcome various challenges in the development and production of lithium-ion batteries.
The second exclusive demo was the latest TENSOR 4D-STEM system, which is designed to meet the needs of anyone interested in multimodal nanocharacterization applications (morphological, chemical and structural), including materials scientists, engineers involved in semiconductor R&D and failure analysis, and crystallographers. The Tensor demos were absolutely hopelessly booked and we were delighted with the high level of interest.
Not only did the conference provide an opportunity to establish new contacts and collaborations between participants and sponsors, but it was also a great place to meet in a friendly and inspiring spirit. We are glad we could be there!