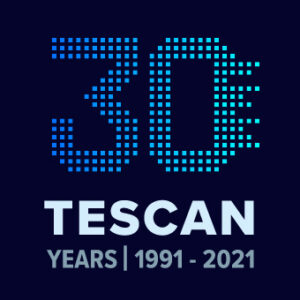 We are celebrating TESCAN's 30-year anniversary! The company was started right after the fall of the Iron Curtain in post-communist Czechoslovakia. The change of the political regime in 1989 accelerated major social and economic transitions, providing new opportunities for the entrepreneurial minds of TESCAN founders in 1991 – and TESCAN was born.
Team spirit, courage and passion for science have fuelled the growth of the company and the brand for the past 30 years. TESCAN has grown from 25 people then to 650 professionals globally today, covering all functions of R&D, Production, Marketing, Sales and Service.
Company founder and CEO, Jaroslav Klima, states, "It is truly a remarkable experience to see TESCAN reach its 30th anniversary. Once a start-up that was unknown and not taken seriously by the competition, TESCAN today is a mature, solid, sophisticated and innovative leader in the industry that has gained trusted, long-term relationships with customers, partners and employees. TESCAN is a provider, enabler, nurturer if may I say so. This is how we think about the company and our brand, and this is the heritage of TESCAN that we would like to continue well into the future."
TESCAN continues to grow and innovate, making significant investments in R&D with many new products being in various stages of development. TESCAN is the only brand in the electron microscopy market today that is solely focused on electron microscopes and solutions for sciences and industry. TESCAN added dynamic micro-CT to its product portfolio in 2018. It has created a direct connection between electron microscopy and dynamic micro-CT – enabling new and exciting applications of these complementary technologies as they work side-by-side.