2 February, 2023, Brno, Czech Republic – TESCAN is proud to announce its diamond sponsorship at the Microscopy Conference 2023 (MC 2023), taking place February 26 – March 2, 2023 in Darmstadt, Germany. The conference brings together leading experts and emerging young researchers to share their expertise and present and discuss current trends and newly discovered findings in the field of microscopy.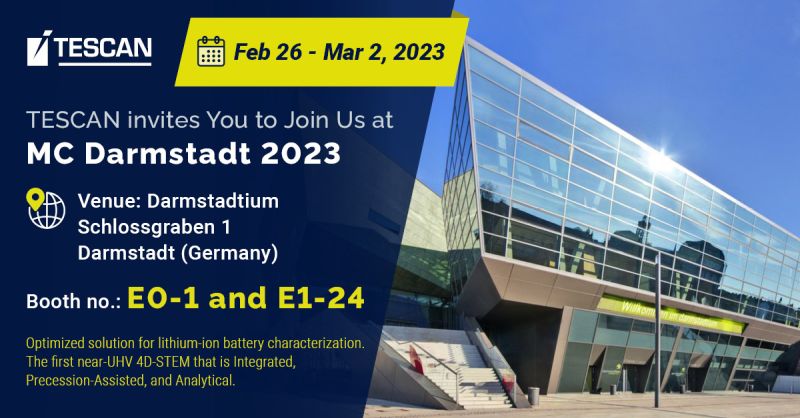 "We are excited to be a part of this unique event and to showcase our innovative products and solutions at booths E0-1 and E1-24," said Dirk van der Wal, Chief Marketing Officer of TESCAN. "Don't miss the opportunity to see our TESCAN TENSOR, the world's first dedicated 4D-STEM for multimodal characterization of nanoscale morphological, chemical, and structural properties of functional materials, thin films, and synthetic particles, with stand-out 4D-STEM performance and unprecedented usability."
Join TESCAN at MC 2023 as we unveil our latest product innovation, the TESCAN AMBER with TOF-SIMS, at booth E0-1. This powerful tool has revolutionized battery research and is a must-see for industry professionals. Our team of experts will be on hand to provide in-depth demonstrations of the instrument's capabilities and answer any questions you may have.
In addition to the in-booth demonstrations, TESCAN will also be hosting a series of Lunchtime Lectures led by leading industry experts. These sessions will delve into a range of topics, including cryoTEM sample preparation, 3D tomography of large volumes, and the role of electron microscopy and focused ion beam characterization methods in the evaluation of electrochemical materials and their interphases. Attendees can register for these sessions or schedule a demo by visiting the TESCAN website.
"Don't miss out on the premier microscopy and networking event of the year," said Kathrin Rudolph, Sales Director at TESCAN GmbH. "We look forward to seeing you there and discussing the latest advancements in the field."
For more information about TESCAN and its products and services, please visit the TESCAN website. 
Media contacts:
Barbora Novosadová
+420 530 353 522