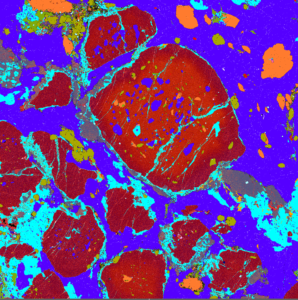 Built as a dedicated solution for automated mineralogical analysis, TESCAN TIMA delivers rapid access to actionable data across several applications: mineral quantification, petrography, metallurgy, liberation analysis, and other mineralogical, chemical or composition studies.
Four EDS detectors each with their own digital pulse processor increase throughput speed for sample processing. TESCAN's patented high sensitivity spectral summing algorithm assures accurate and reproducible quantification for low abundance elements. Additionally, TESCAN TIMA adopts the ease of use principles of TESCAN's Essence GUI, with automation scripts to guide unattended operation for faster processing and access to reproducible quantitative data. TESCAN TIMA is optimized for different applications – mining, geoscience and petrography analytical requirements.
Read more about the new TESCAN TIMA – Press Release.